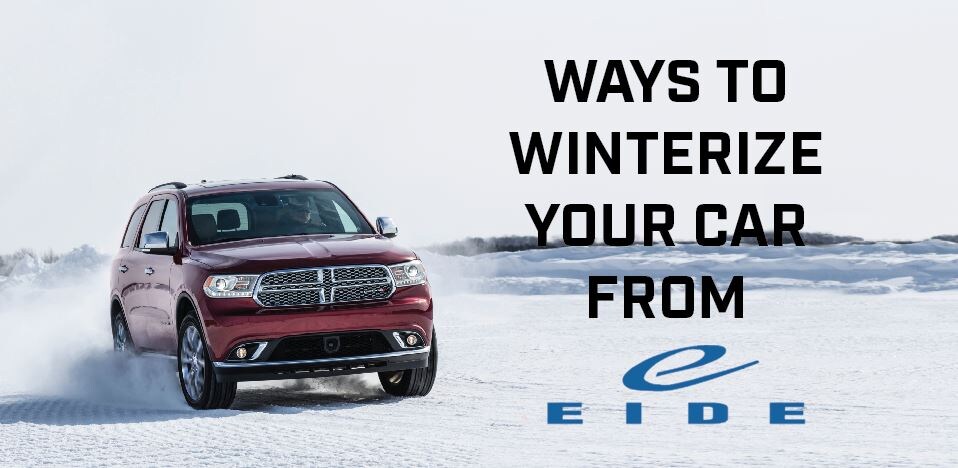 Winter is here in Minnesota, follow these basic steps to keep your car and yourself safe this season!

Schedule an appointment today!

Call (877) 733-3585 or visit https://www.eidechryslerdodgeramjeep.com/service/mopar.htm

1. Keep fluid replaced and refilled
This is the best place to start to ensure that your care can handle inclement weather conditions
2. Inspect or replace your tires

Low air in pressure in tires can be dangerous on wet or slick roads by reducing traction. Be sure to check your owners manual for a PSI.
3. Cold weather & battery capacity

The cold weather reduces battery capacity

Inspect your battery, cables, terminals, and fluid
The terminals should fit snugly with no loose connections
Check your battery fluid by uncovering the refill hole
Know your manufacture date on your battery

4. Pack an emergency kit

An ideal kit includes the following:
Flashlight
Blanket, leather gloves, and hat
Bag of kitty litter or sand
Ice scraper and brush

Small shovel

Safe and leak-proof container of coolant
Snacks

5. Keep up regular maintenance

Take your vehicle to a trusted mechanic at Eide to winterize your car. We will take the correct steps needed to keep you safe out on the roads this winter!